Prices Include Shipping On All Products!
What is Dark Corps?
Dark Corps is a middle grade book series written by Cameron Alexander and published by Bickering Owls Publishing.The series follows the adventures of Timmy Barnes and his elite force of armor wearing stuffed animals the Dark Corps. On a quest to find and rescue his father, Timmy and Dark Corps must evade and often battle the shadowy shape shifting aliens known as the Dark who are out to get him.
REVIEWS
"For his debut novel, Alexander launches a smart, action-oriented middle-grade series that's designed to keep kids' attention." -kirkus

"An adroitly conceived series opener that's tailored to action fans." -kirkus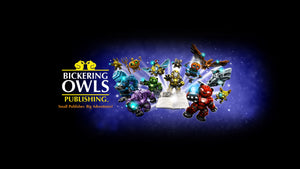 Dark Corps Now on Youtube!
Check out the new animated audiobook chapters on Bickering Owls Publishing's Youtube Channel.
Youtube
Never Be Afraid Of the Dark
The Dark Corps books and images are a copyright of Bickering Owls Publishing and Cameron Alexander and are not to be used without permission. If you have interest in licensing, please email dmaracle@bickeringowls.com.